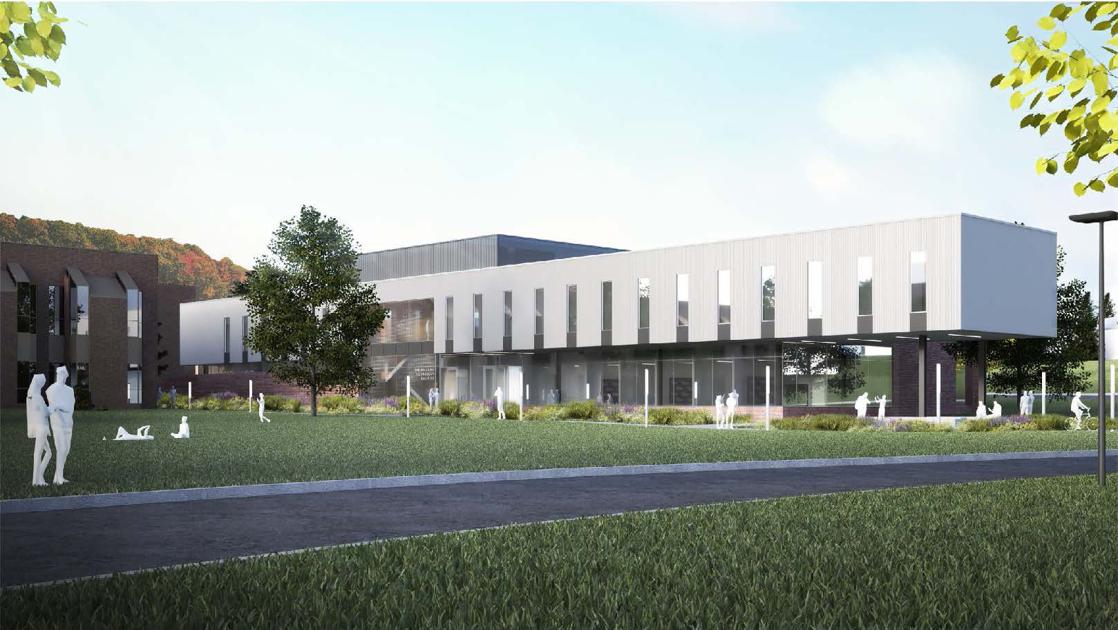 PITTSBURGH — The University of Pittsburgh Board of Trustees approved the construction of a new $24.5 million, 40,000-square foot engineering and information technologies building at the Bradford campus.
Ground will be broken later this month with a planned completion date of summer 2022.
"This is a really exciting project for Pitt-Bradford," said Rick Esch, interim president of the campus. "It is the first academic building that the campus has built in two decades, and it's going to provide a state-of-the-art home for our computer information systems and technology program as well as two new engineering technology programs.
"We're so grateful for the support we've received on this project from the community and our state legislators."
Designed by HED of Michigan, the new building will be the center of technology and innovation on campus and across the region, chock full of rapid prototyping machines, oscilloscopes, engineering lab stations and more to provide hands-on technical learning from students.
Rycon Construction Inc. of Pittsburgh will be the general contractor. Rycon previously built Sarah B. Dorn Residence Hall on campus. Allan Swanson of Bradford, who recently retired as owner of his own general construction business, Carl E. Swanson and Sons, will provide oversight of the construction.
The building will be constructed on the lawn of Hanley Library and house two new engineering technology programs — mechanical engineering technology and energy engineering technology.
In the new building, engineering technology students will have hands-on labs and study applied mathematics. They will create on their own in a maker space full of milling machines, lathes, welding equipment, metal cutting technology and 3-D printers and scanners.
Students in mechanical engineering technology will be able to design and build a prototype for an industrial process, then test them in labs for fluid dynamics, thermodynamics, strength of materials and electrical circuits.
Energy engineering technology students will learn about geology, combustion, automation and sensors, biofuels, wood chemistry, wind and solar power, and the chemistry of petroleum and natural gas.
Graduates with engineering technology degrees will be prepared to apply for and perform the same jobs as those with engineering degrees since they will take similar classes in math and engineering. However, the teaching and learning in the technology programs will be focused on practical applications.
The whole project has been decades in the making, said Dr. Ron Mattis, director of the engineering program. Currently, the university has a two-year pre-engineering program in which students transfer to another school to complete their degree.
Dr. Matt Kropf, associate professor of petroleum technology, said, "Without this new building to house our special equipment and labs, we wouldn't be able to offer our students these new engineering technology programs in which graduates are in demand.
"And without these new majors, our region's need for a locally trained and skilled workforce would continue to go unmet in key areas."
The new four-year programs will provide enhanced opportunities in the way of lab and testing equipment to continue engineering students' hands-on experience.
Labs in the new building include
A strength and materials lab
A fluid dynamics lab with small hydro tunnel to test designs
A circuit lab with bench space for soldering, generators and analog/digital trainer desktop kits
A measurements lab for the energy engineering and energy science and technology programs where students will be able to work with sensors and automation
A machine shop for first-year engineering students with computer-controlled cutters and plasma cutters used to cut through electrically conducive materials
A maker space with 3-D printing for rapid prototyping to be shared with the information technology program.
The content of a final lab is yet to be determined, but it will be a place where students can work on projects for competitions such as robotics, drones, and recreational or solar cars. The labs where students will be creating and fabricating are connected to each other to make working on projects easier.
Information technology faculty and students are excited not only about new facilities, but also about facilities in a single building with campus technology services. Currently, the program's labs and offices are spread out among three different buildings.
Faculty from the engineering and information technology programs look forward to collaborations — such as competitive teams — that would benefit both programs. The maker space will also be an attraction for prospective students in both areas.
"The energy between computer information systems and engineering is important for students," said Dr. Ken Wang, associate professor and director of the computer information systems and technology program. "They are complementary programs."