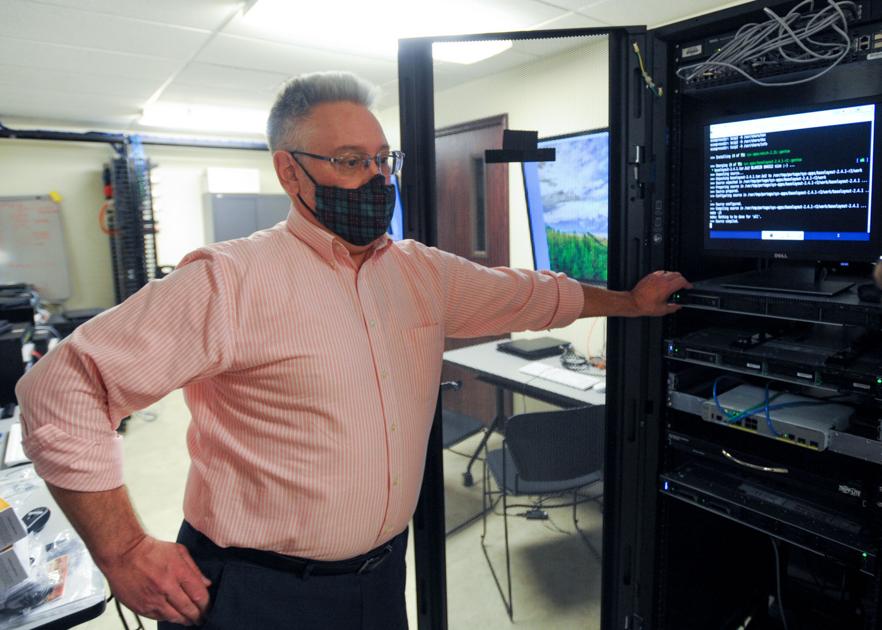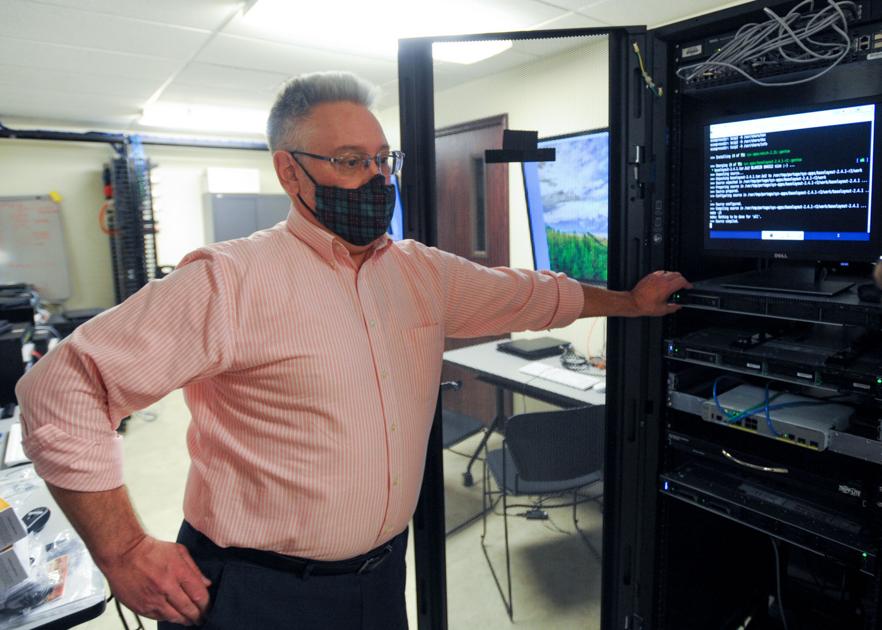 [ad_1]

Earlier this year the College of Eastern Idaho took the next step in providing students with a cybersecurity education.
The college opened a secure operations center, a training ground for simulating cybersecurity attacks on a closed computer system, at the college's satellite Yellowstone Training Center campus south of Idaho Falls. Idaho National Laboratory provided the program with laptops for the students monitoring the system, along with an older, unused supercomputer.
The supercomputer server has eight terabytes of storage — 32 times more than the majority of brand-new laptops can hold. Computer science professor Don Williams, along with other computer professors and higher-level students, use the equipment to simulate a variety of business networks, each with its own potential vulnerabilities and attacks that can be simulated.
"We can create a safe training environment and throw in a system here or there with a vulnerability for them to look for," Williams said. "You'll see someone has left a firewall off, or a USB port that's open for communication when it shouldn't be."
Thanks to support from INL and the state Legislature, CEI is at the forefront of a growing push for Idaho's colleges to provide cybersecurity education. By February, the center had already provided credentialed training at the center for nearly 200 students and local IT professionals.
When combined with the growing presence of computer science and cybersecurity programs at the state's community colleges, universities and business interests hope to build up a strong local presence of computer experts that can protect systems in Idaho and beyond.
"We have the opportunity to create best-in-breed programs to show other states how to handle these issues," said Robert Roser, chief data officer and chief information security officer for Idaho National Laboratory.
A 2020 Cybersecurity Workforce Study conducted by (ISC)², an international, nonprofit membership association for information security leaders, found there's a worldwide shortfall of 3.12 million cybersecurity workers, Info Security magazine reported.
INL has been partnering with the U.S. Department of Homeland Security for more than a decade on research to protect critical infrastructure from cyberattacks and many local officials who advocated to convert Eastern Idaho Technical College into the College of Eastern Idaho pointed to the need for cybersecurity education as a big reason for the change.
The Legislature provided just under $1 million in 2020 for the state's three public universities to establish a joint cybersecurity major. Boise State University, the University of Idaho and Idaho State University have rolled out new programs in the field over the last few months and have until June 30 to completely set up the degree.
Williams is a key instructor for CEI's two computer-centered degree programs. One is the more traditional information technology program that provides local I.T. professionals. The cybersecurity and SOC program takes place largely at night to accommodate recent high school graduates and working professionals.
"There is a bit of a trend where students do both. Add on a few more classes, and you can earn another degree to tack onto your resume," Williams said.
In 2019, INL opened the Collaborative Computing Center and Cybercore Integration Center, which were financed by $90 million in bonds approved by the Legislature in 2017. Totaling about 150,000 square feet between them, the buildings are owned by the state — the state Building Authority sold the bonds and leased the land to the state Board of Education, which in turn leases the buildings to INL.
The Cybercore Integration Center will focus on cybersecurity work, bringing together federal, state, academic and private industry researchers to develop infrastructure that can withstand threats such as cyberattacks and natural disasters.
Idaho State University recently announced a bachelor's degree in cyber-physical systems. A recent article by the INL communications team highlighted the variety of hands-on training the college and lab offer students at the two new INL-operated centers.
"We're taking engineering technology students — mechanical, electrical, instrumentation, nuclear — and giving them industrial cybersecurity on top of that," the newly-appointed ISU program coordinator Sean McBride told the lab's spokesman.
Eleanor Taylor manages the university partnerships with INL and the Cybercore program. She said the idea was that each college would be able to focus on a different area of cybersecurity.
"We're seeing a lot more disciplines coming into cyber as the field keeps growing. Linguists, critical thinkers, all kinds of different perspectives because the cyber field is getting much more complex and nuanced," Taylor said.
Taylor said the Boise State program was more focused on monitoring computers and attacks from a distance. The University of Idaho, meanwhile, launched the state's first bachelor's degree program in cybersecurity at the start of this school year.
"Students are smart. They pay attention to what's going on and these kinds of problems, and this career path is going to be strong forever," Roser said.
When Roser spoke to the Post Register in early May, he highlighted three recent events that had increased the focus on cybersecurity. He spoke about the hacker who attempted to poison a water treatment plant in Florida and the Russian government's use of a vulnerable SolarWinds update to access data from federal agencies and companies including Microsoft.
There was also a general increase in remote computer activity caused by the coronavirus pandemic. Roser said he requested a significant budget increase last year to help protect the many INL employees who had shifted to working from home.
Days after that interview was the Colonial Pipeline attack, where ransomware forced one of the largest oil pipelines on the East Coast to close for nearly a week. Multiple states reported gas shortages as residents began panic-buying fuel and the national gas price rose above $3 per gallon for the first time in years.
CEI's computer programs will expand further in the future once the college's Future Tech building opens. The roughly $35 million addition to the campus will be the central location for career technology programs ranging from hands-on machinery to cybersecurity. Initial designs for the school have been presented to the college trustees but an official design won't be finalized until the end of 2021.
The college has to limit its cyber classes to a two-year degree length, so Williams tries to keep the program's scope basic. But he said the centralized computer systems at the Future Tech building would help to keep up with the constant evolution of the field.
"Our goal is to get the programs up to the standard of the jobs. And as things keep evolving in the field, that means we revamp our work to keep up," Williams said.
Brennen is the main education reporter for the Post Register. Contact him with news tips at 208-542-6711.