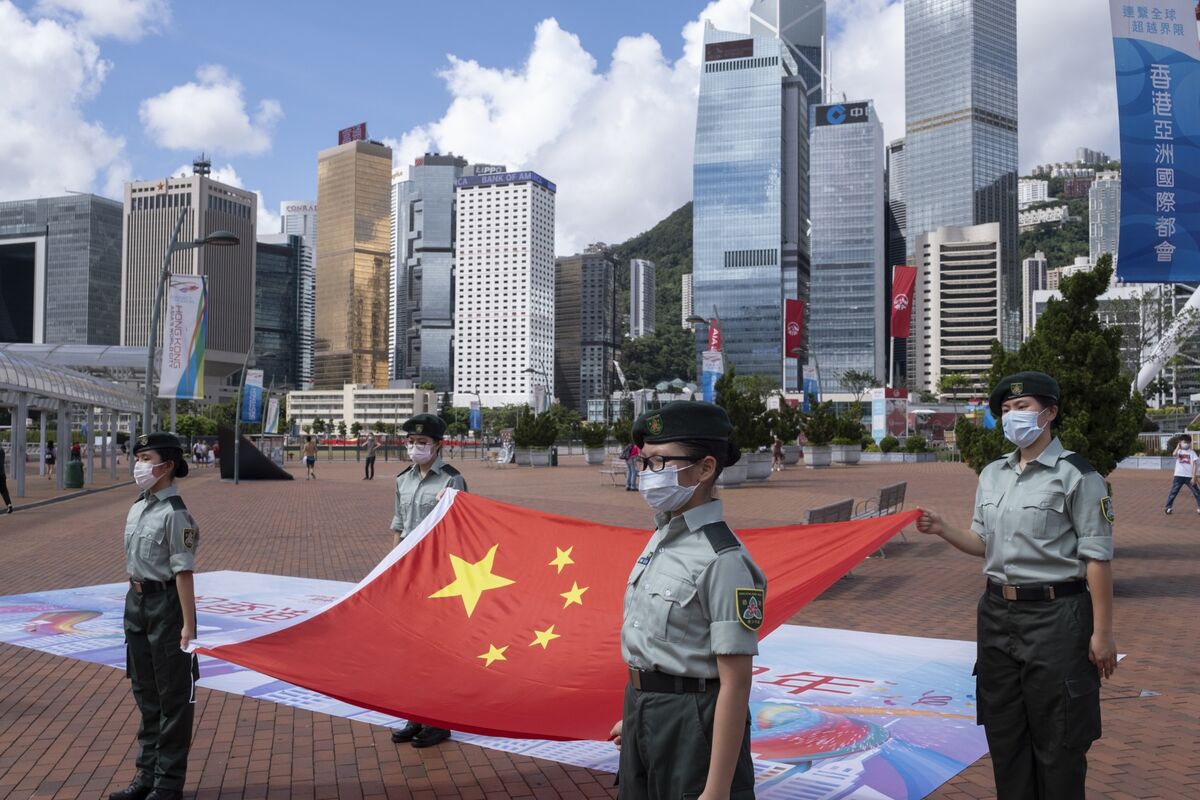 Hong Kong's government says cutting the tax on carried interest to zero will make the city a more attractive base for private equity firms and boost the economy. In normal times, there would be no debate. The change gives the Chinese city an edge over its regional rival Singapore and is opportunely timed, coming just as President Joe Biden proposes to eliminate tax breaks for carried interest (essentially the profits that partners accrue on a fund's investments) in the U.S. The question is whether the enticement is sufficient to outweigh an expanding list of factors that threaten to dim Hong Kong's appeal as an international financial center.
In case anyone hadn't noticed, times aren't normal. To gauge just how abnormal they are, it's worth returning to the debate last July when lawmakers considered an earlier piece of legislation designed to support the private equity industry. Most opposition legislators spoke in favor of the government's bill, which updated the framework governing limited partnership funds. At the same time, they questioned the impact of the national security law, enacted by Beijing just over a week before that discussion. 
Fund managers "are not running cafes in Hong Kong," said Charles Mok, representing the information technology industry in the Legislative Council. "They are concerned about freedom of information, financial stability, as well as international political and social factors." Accountancy representative Kenneth Leung, while saying the bill would benefit professional services industries such as lawyers and accountants, expressed concern that overseas funds might inadvertently fall foul of the security law and asked whether authorities would consider exemptions. 
"International financial centers share a number of characteristics, including free flow of information and freedom in investment which allows investors to invest freely without worrying about political consequences," said legislator Raymond Chan, who questioned whether activities akin to George Soros's attack on the Hong Kong dollar during the 1997-98 Asian financial crisis would be potential security law violations. James To, another pro-democracy lawmaker, said that in order to attract investment funds, "We must convince the investors that both their capital and talents will be safe here."
More from
Ten months on, not one of the opposition voices who spoke that day is still a serving legislator. Some were disqualified, others resigned; some quit politics altogether. And some (Raymond Chan, Wu Chi-wai, Claudia Mo) are in jail, among dozens charged under the national security law with conspiracy to commit subversion. 
In the meantime, their warnings on freedom of information, rule of law and an increasingly uncertain environment have continued to ring louder. Hong Kong has started blocking websites, the first step toward mainland Chinese-style controls; authorities are talking about bringing in a "fake news" law; and a journalist who investigated a gang attack on commuters during the 2019 protests was prosecuted and fined. The chairman of Hong Kong's Bar Association has been the subject of vituperative attacks by Chinese officials and state media after voicing a mild defense of the right to peaceful protest, while the charging of 47 opposition activists stands as a mark of how the legal system has been weaponized for political purposes. Meanwhile, thousands of people a week are applying to leave Hong Kong for the U.K. — likely including many of the accountants, lawyers and other professionals who make the city Asia's premier financial center. 
How much does any of this matter? Capital tends to flow to where it's treated best. If the profit opportunities are great enough — and paying zero tax certainly makes them greater — then the money will come. Hong Kong is the second-largest private equity hub in Asia after mainland China, and benefits from its proximity to the region's biggest source of potential investment targets. 
Money Gap
By assets under management, Hong Kong is still well ahead
Source: Preqin
Return is only one side of the capital-treatment coin, though. Risk is the other. Erosion in free flow of information and rule of law increases uncertainty and makes Hong Kong a relatively less attractive location at the margin. While the city's private equity industry still towers over Singapore by assets under management with $166 billion versus $34 billion as of September, there are signs that its lead is being eroded. Singapore has attracted more firms to set up headquarters for seven years running, according to Preqin Ltd., a private-equity information service. Separate data from research firm ACVJ show a similar trend. 
Insecure Advantage
Singapore has eroded Hong Kong's lead in terms of number of private equity and venture capital firms
Source: AVCJ Research
Political risk must be factored in. Hong Kong's social conflicts have been suppressed, not resolved. Resistance hasn't been extinguished, and tensions may flare again at some point once the pandemic is over. The Hong Kong government portrays the national security campaign as a means of driving out a small minority of troublemakers. That narrative may play well in Beijing. Overseas investors with millions of dollars to deploy are likely to take a more cold-eyed view.
(Updates with Hong Kong's private equity assets under management in the eighth paragraph. Corrects spelling of Claudia Mo's name in the fifth paragraph.)
This column does not necessarily reflect the opinion of the editorial board or Bloomberg LP and its owners.
To contact the editor responsible for this story:
Rachel Rosenthal at rrosenthal21@bloomberg.net
Before it's here, it's on the Bloomberg Terminal.
LEARN MORE