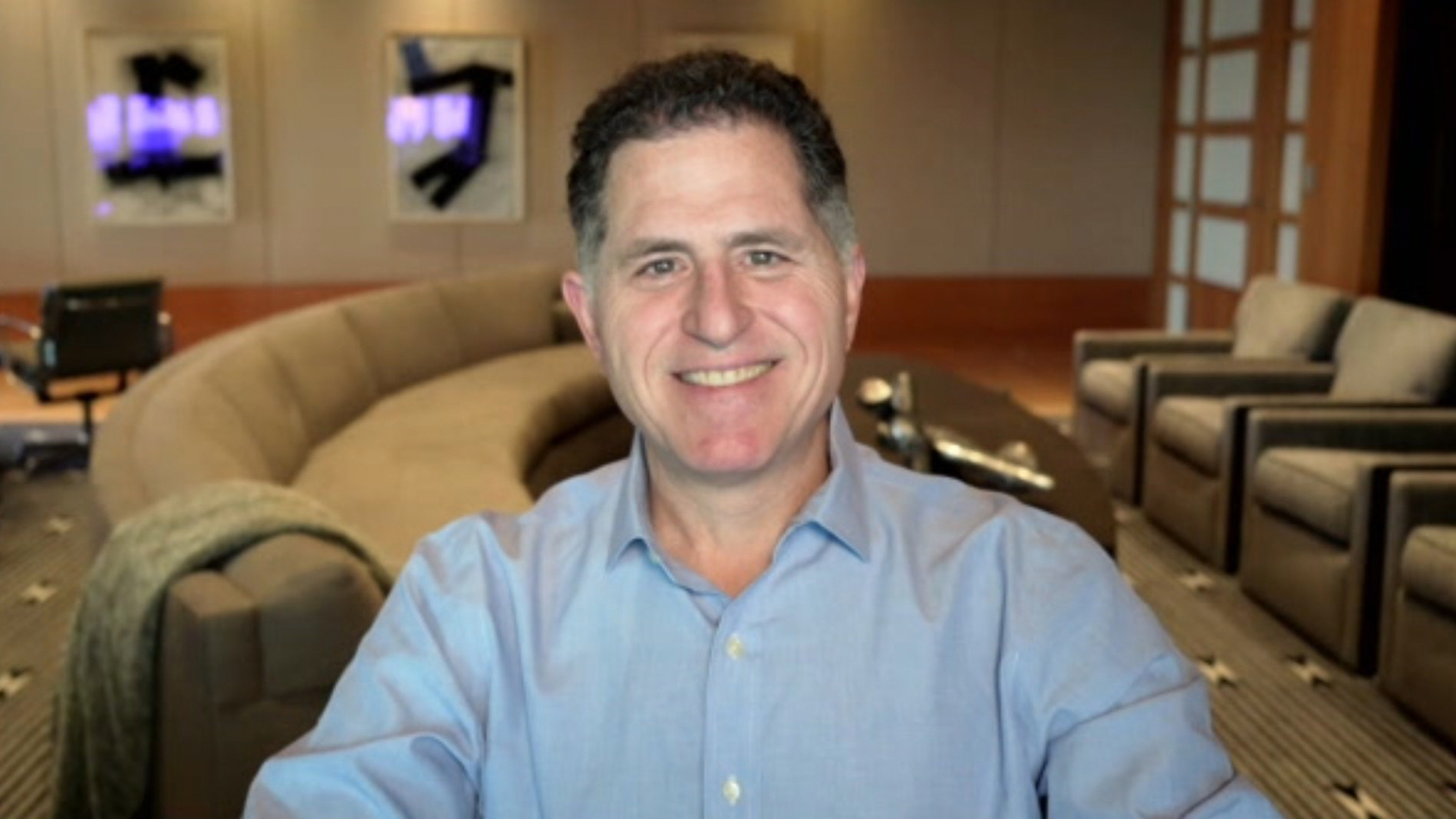 With a net worth of $50 billion, according to Bloomberg, Michael Dell, chairman and chief executive officer of Dell Technologies Inc., should by all rights be the richest person in Austin, Texas. He's not even close.
That distinction belongs to recent Texas transplant Elon Musk, the chief executive of SpaceX Inc. and Tesla Inc., whose current net worth is calculated at $187 billion. Such is the saga of fame and fortune in the technology world.
Dell probably doesn't dwell on this unusual fact, as he has been busy running his own business with $94 billion in revenue and nearly 160,000 employees. This has included dealing with supply chain disruption caused by a global pandemic, spinning off VMware Inc. into a new ownership structure, and navigating the turbulent economic seas of the past year with notable success.
"We had record pretty much everything — record revenues, record operating income, record cash flow, and we also paid down a record amount of debt," Dell said. "The strength and resiliency of our supply chain, as well as the broad diversified nature of what we provide our customers, continue to serve us very well as they move toward this 'do anything from anywhere' world. Business is very strong."
Dell spoke with Dave Vellante, host of theCUBE, SiliconANGLE Media's livestreaming studio, during Dell Technologies World. They discussed the spinoff of VMware, growing customer interest in edge technologies, Dell's pivot to as-a-service delivery, a corporate commitment to social initiatives and his forthcoming new book, " (* Disclosure below.)
New VMware ownership
Dell's reference to paying down his company's debt is related to the news in April that the company would offer VMware shareholders a special dividend based on Dell's 81% ownerships stake. The result would net Dell Technologies approximately $9 billion, which can be used to pay down debt incurred as part of the $58 billion acquisition of EMC in 2015.
Dell, who will remain chairman of both companies, makes it clear that his firm is still going to remain quite involved with VMware going forward.
"We're not selling VMware. We're distributing our ownership to our shareholders," Dell explained. "What we've done is to formalize the commercial relationship into a series of agreements. We've driven a tremendous amount of innovation together, and that's going to continue."
That innovation between the two companies is likely to be focused on edge technologies and meeting customer needs through Dell's commitment to as-a-service delivery models. Dell has recently partnered with Red Hat Inc. to deploy multi-access edge compute architectures in the telco space.
"Today, only 10% of data is processed outside of the datacenter, but it's estimated by 2025, you've got 75% of enterprise data that will be processed outside of a traditional datacenter or a cloud," Dell said. "You've got infrastructure all over the place, with edge being the fastest growing. It's going to be a huge acceleration of this whole process of digital transformation."
Everything as a service
In October, Dell launched Project APEX with an as-a-service model to provide greater customer flexibility within Dell's portfolio of storage, servers and hyperconverged infrastructure. Project APEX was extended to include on-premises private cloud platforms four months later.
"We're talking a lot about APEX and our continuing initiatives to move our whole business in that direction," Dell said. "How can we move our business to more of a service and subscription-on-demand and provide customers with that flexibility to pay as they consume? This is an evolution of products to services to managed services to everything-as-a-service."
Despite key initiatives on multiple business fronts, Dell has also managed to keep his company focused on a commitment to various social issues. "Progress Made Real" is Dell Technologies' vision for 2030, which includes advancing sustainability, cultivating inclusion and leveraging technology to transform lives.
"If you think about the amazing progress that's happened in the last several decades, a lot of it has been driven by technology and by businesses that have stepped up and made a difference and made commitments," Dell said. "Ultimately, those are the things that are going to drive progress forward I believe, more so than government edicts or regulation."
After writing his first book in 1998, Dell took a 23-year break from the publishing world. That will change in October when his latest effort – "Play Nice But Win" – is officially released.
The book represents a different approach to telling his story, according to Dell, which will include memories from his childhood, starting a company from a college dorm room, and his widely publicized battles with billionaire investor Carl Icahn.
"There's lots of fun stories in there," Dell said. "When I wrote the first book in 1998, I wasn't comfortable disclosing a lot. I wasn't vulnerable enough and didn't feel able to do that. Now I do."
Here's the complete video interview, part of SiliconANGLE's and theCUBE's coverage of Dell Technologies World. (* Disclosure: TheCUBE is a paid media partner for Dell Technologies World. Neither Dell Technologies, the sponsor for theCUBE's event coverage, nor other sponsors have editorial control over content on theCUBE or SiliconANGLE.)
Photo: SiliconANGLE
Since you're here …
Show your support for our mission with our one-click subscription to our YouTube channel (below). The more subscribers we have, the more YouTube will suggest relevant enterprise and emerging technology content to you. Thanks!
Support our mission:    >>>>>>  SUBSCRIBE NOW >>>>>>  to our YouTube channel.
… We'd also like to tell you about our mission and how you can help us fulfill it. SiliconANGLE Media Inc.'s business model is based on the intrinsic value of the content, not advertising. Unlike many online publications, we don't have a paywall or run banner advertising, because we want to keep our journalism open, without influence or the need to chase traffic.The journalism, reporting and commentary on SiliconANGLE — along with live, unscripted video from our Silicon Valley studio and globe-trotting video teams at theCUBE — take a lot of hard work, time and money. Keeping the quality high requires the support of sponsors who are aligned with our vision of ad-free journalism content.
If you like the reporting, video interviews and other ad-free content here, please take a moment to check out a sample of the video content supported by our sponsors, tweet your support, and keep coming back to SiliconANGLE.