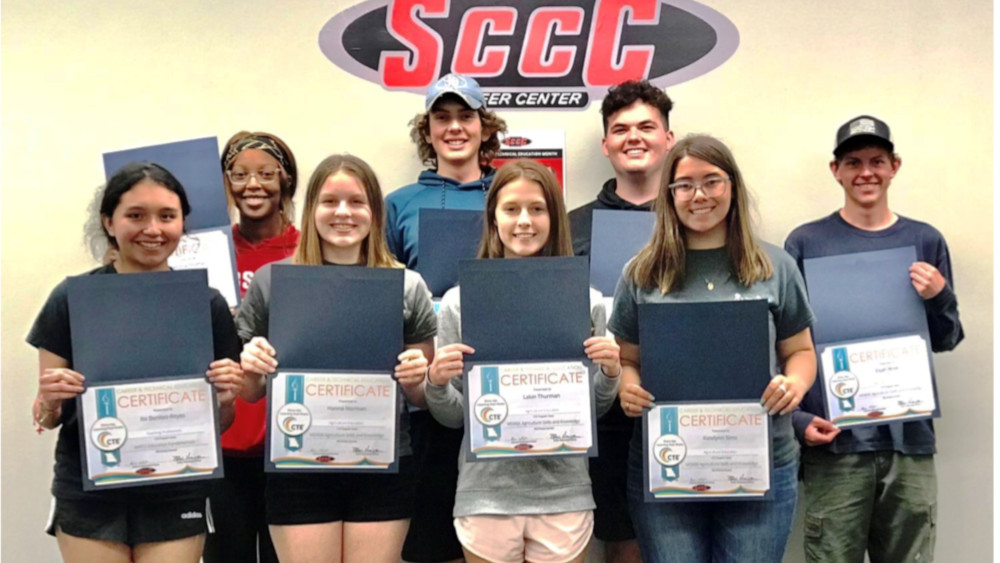 The Saline County Career Center recognized 11 students recently by awarding them the Career and Technical Education certificate.
In 2016, the Missouri General Assembly passed legislation requiring the State Board of Education and the CTE Advisory Council to establish the requirements for the CTE certificate, which is earned in addition to student's graduating high school diploma. This is the first year graduating students were eligible to earn the CTE certificate.
The requirements set forth by the State Board of Education provide students with the necessary technical and employability skills to prepare them for an entry-level career or additional training in a technical field. Students must meet requirements such as maintaining a minimum GPA, completion of an approved Industry Recognized Credential (IRC), completion of a minimum of 50 hours of work-based learning experience, maintaining minimum attendance, achieving certain ACT or SAT scores, and demonstrating employability skills.
Brian Wilcoxson, Director of SCCC stated, "The minimum requirements these students must meet in order to be awarded the CTE certificate are rigorous, and must be maintained throughout their high school career. Students achieving this level of performance will make excellent candidates for further education, training or employment."
The CTE certificate fits into Governor Mike Parson's workforce development initiative. Governor Parson visited SCCC earlier this month on a tour of Saline County. He spoke openly with SCCC students and staff about the importance of job readiness skills and industry workforce needs.
SCCC serves students from four area high schools including Slater, Sweet Springs, Malta Bend and Marshall. Program areas include Building Trades, Agriculture Education, Automotive Technology, Culinary Arts, Health Science, Marketing, Information Technology, Teaching Professions and Business Education. Nine students from Marshall and two students from Sweet Springs earned the Career and Technical Education Certificate from the area.
Receiving the CTE certificate for the class of 2021 are: Kailei Allen (AAFCS Education-Marshall), Ilsi Benitez-Reyes (AAFCS Education-Marshall), Brock Boland (ASE Automotive Services-Sweet Springs), Hanna Norman (MOASK Agriculture-Marshall), Evan Sappington (MOASK Agriculture-Marshall), Katelynn Sims (MOASK Agriculture-Marshall), Lakin Thurman (MOASK Agriculture-Marshall), Elijah Wise (MOASK Agriculture-Marshall), Corey Thieman (MOASK Agriculture-Marshall), Lakeshia Thomas (CNA-Marshall), Haley Schuber (CNA-Sweet Springs).
"We congratulate these students and acknowledge the hard work and dedication they put forth to achieve this award." added Wilcoxson.
For more information about the CTE certificate or the programs offered at the Saline County Career Center contact Brian Wilcoxson at (660) 886-6958.
Pictured from left to right:
Ilsi Benitez-Reyes, Lakeshia Thomas, Hanna Norman, Corey Thieman, Lakin Thurman, Evan Sappington, Katelynn Sims, and Elijah Wise. Not pictured: Kailei Allen, Brock Boland and Haley Schuber. (Photo courtesy SCCC)