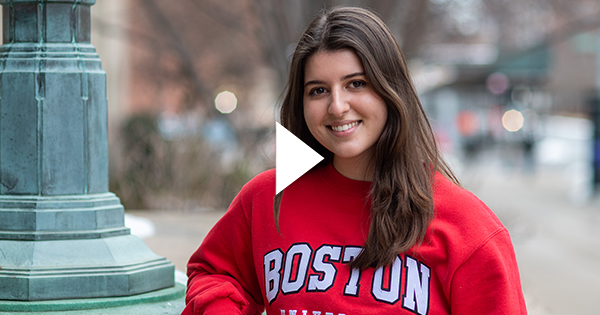 A year ago, the Class of 2020 graduated into the worst job market since the Great Depression. So, what's the outlook for the Class of 2021? It's hardly a booming economy these days, but thanks to easing pandemic restrictions, a giant infusion of government relief, and the arrival of vaccines, the landscape looks brighter. But job hunters will find a significantly reshaped market out there. 
For this BU Today series, we asked industry experts their advice for new grads looking for work, and we also looked at how the recruitment process has changed. We talked to some 2020 graduates, and current seniors, to ask how their job quest is going. And we looked at a new state-of-the-art online networking and mentoring platform that's helping students and alums make connections that could have a lasting impact on their career.
Spring is in the air, and with it, career anxiety. Looking for that first job after graduation is always daunting. Factor in an economy still struggling to recover from the pandemic, and it can seem, well, overwhelming. Where to start?
In this video, Anna Malygin (Questrom'23) interviews Esther Leonard, BU Center for Career Development (CCD) assistant director of career education. As a CCD intern, Malygin has spent the past semester learning just how BU helps connect students to their future careers, as well as what students' biggest concerns are in setting out on this journey. And even though she's just ending her sophomore year, she's already starting to think about navigating the job-hunting process for herself. She and Leonard talk about when students should  begin networking, the importance of building an online presence, what parts of a résumé to highlight, and the campus services available to students as they embark on their job hunt. 
Leonard's advice isn't just for graduating seniors. Whether you're a freshman trying to line up your first-time internship or a senior pursuing a career in investment banking, you'll find lots of practical advice in this video.
And don't be afraid to ask for help when you need it, Leonard says, "because you can't do this alone."
This Series
Also in
Job Hunting in a Pandemic

Series home
Explore Related Topics: